Are you a student looking for innovative courses with creative projects? Are you seeking to develop technical and aesthetic skills that might benefit your personal and professional goals or help you to stand out in a future job search? Do you want to build your experiences and expertise in digital photography, web design, and audio or video editing using industry-level tools, like Adobe CC?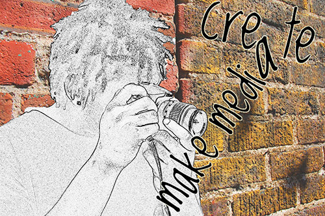 The Department of Curriculum & Instruction in the Reich College of Education offers two face-to-face Media Studies programs located in the new College of Education building on Appalachian's campus in Boone, NC. Our new building is equipped with a Mac-based Media Lab where enrolled Media Studies students can access software like Adobe Premiere, Lightroom, and Photoshop. Students enrolled in our media courses may also borrow equipment like digital SLR cameras, video cameras, and lighting equipment, in addition to using our Green Screen Production Studio.
Some sample topics your program of study may cover include:
story telling with spoken words
slow sync flash techniques using digital SLR cameras
audio production
collaborative video editing
representations and identity in media
digital and media literacy
participation and privacy in the digital age
Below you will find information detailing our two Media Studies offerings (the Minor and SAC), however any student is welcome to enroll in our media courses as an elective to try out the classes or add a creative dimension to your study.
The Media Studies Minor
The Media Studies Minor is available to all undergraduate students. You can opt to complete the full minor, or simply take one or two classes. The minor is structured to prepare students with the technical, aesthetic, and critical skills to leverage a range of media (visual, auditory, multimedia) across many genres (documentary, fiction, narrative) for use in professional careers. The Minor offers flexible and adaptable skills sets and pairs well with any major. Click here for more info.
The Second Academic Concentration in Media Studies
The Second Academic Concentration (SAC) in Media Studies is available to undergraduate Elementary Education majors. You can opt to complete the full SAC or simply take a few classes. The Media Studies SAC prepares future teachers with the creative and technical expertise to employ a range of media and technology in their future classrooms, including video, photo, audio, and more. Click here for more info.
---
If you are interested in learning more, contact a Media Studies faculty member with your specific questions: