Welcome to the New Media Literacies and Global Perspectives concentration. This track is one of four Master's Degree concentrations and three graduate certificate programs in our larger Educational Media and Instructional Technology program.
Appalachian State University's New Media Literacies and Global Perspectives concentration is one of the only comprehensive media literacy degree programs in the nation, officially approved by the university administration in 1999, originally as Media Literacy. As of 2012, we have gone entirely online, offering both the Master's Degree and Certificate options via a web-delivered program of study.
If you are interested in the program, please take a moment to browse this website and familiarize yourself with our offerings. We receive student inquiries from all over the country and world and it is a great way to begin communication and determine if pursuing higher education online at Appalachian State University is right for you. We look forward to hearing from you!
---
Program Details
The New Media Literacies and Global Perspectives Master's Degree and Graduate Certificate programs help students develop the intellectual, technical, and aesthetic skills to successfully create, utilize and critique traditional, emerging, and converging new media, technologies, and literacies as they relate to individuals, societies, and cultures. Emphasis is placed on an investigation of the production, form, language, and dissemination of a variety of texts, including print, non-print, and evolving media forms (e.g., web-based media, augmented reality, etc.). Emphasis is also placed upon the analysis of new media in light of educational, cultural and social forces from both local and global perspectives.
This concentration does not lead to North Carolina Licensure.
Graduates of the program will be prepared to foster media literacy and technology initiatives, projects, and curriculum development in a variety of settings. Graduates may also develop the skills to create digital media content and promotional materials for program development and initiatives. Graduates may continue to thrive in their current professions or transition into new careers as: teachers, media specialists, educational media and technology consultants/trainers, community college faculty/staff, health care professionals, youth media coordinators, or individuals interested in new media and the design and development of web-based educational and training/learning environments, among other activities and professions.
Some sample topics your program of study may cover include:
critical perspectives in digital media and technology
media production design and development
representations and identity in media
multiple literacies and learning
children/youth and media
media critique and cultural studies
program development in media/technology related professions
global perspectives in media and technology
If you are unsure about enrolling in the Master's Degree program at this time, feel free to consider participating in our Certificate program.
Graduate Certificate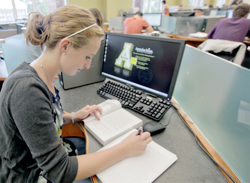 For students seeking to broaden their educational experiences and expertise, the 18-hour Graduate Certificate program may be a good option, providing many students with an entry into completing Master's Degree work or with an additional expertise for current professional advancement.
Each semester the student would take one or two courses online along with students enrolled in the Master's Degree cohort. The certificate is selected course work only and does not require a culminating portfolio project.
Learn more about program delivery and the application process by visiting our Certificate Program site at Distance Education.
Students who opt to enroll in the Certificate program have the option to then enter the Master's Degree program at a later date before the Certificate is complete.
---
For information about Graduate Programs, contact our program director:

Dr. Patrick O'Shea
osheapm@appstate.edu