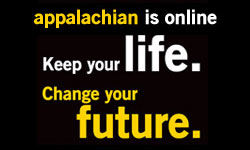 If you are interested in our program, contact Appalachian State's Distance Education Office to assist you with the application process, enrollment and registration. Application information can be found here.
While your program advisor will assist with academic advising, the Distance Education Office will assist you with regard to the remaining student services; they will facilitate and direct you to the correct offices when needed.
Distance Education at Appalachian State has a user-friendly website and, after you apply to the program, we encourage you to do a virtual "walking" tour through the site beginning with "prospective student" section, later as a "first-time student", and finally as "current off-campus student." Here you will find useful information to bookmark including information from the graduate student online orientation and final forms for graduation!
Please visit: https://online.appstate.edu
Distance Education at Appalachian State notes that the Internet makes every computer a virtual campus. On-campus students now log into their "AppalNet" accounts to check their grades or bills versus walking to the Registrar or Student Accounts offices. The Distance Education website will give you this feeling of being "on-campus."
Contact Information
Office of Extension and Distance Education
ASU Box 32054
Boone, NC 28604
828-262-7334 direct
800-355-4084 toll-free in NC
828-265-8673 (fax)
online@appstate.edu